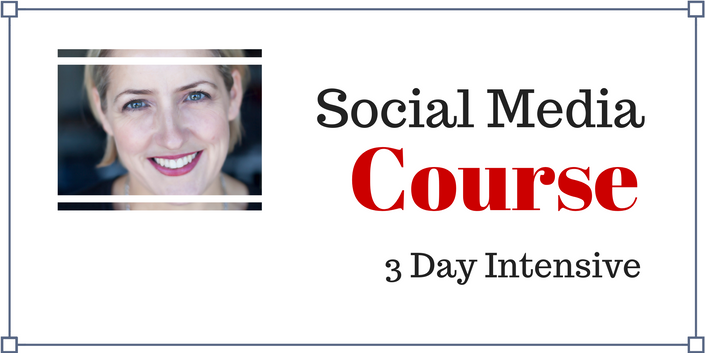 3 Day INTENSIVE Social Media Course ADELAIDE - NOVEMBER 2019
2019 Adelaide Australia - Social Media Advanced on Facebook, Twitter, Social Media Strategy, Campaigns and MORE!
Watch Promo
Social Media Course in Sydney in 2020: Are you looking for an intensive social media strategy and campaign course in SYDNEY Australia with hands on practical setting up of blogs, Facebook, Twitter and other social media tools? This 3 Day Social Media course is a mix of lecture, group challenges and computer based exercises (bring your own laptop & power supply). Social Media Press Releases & Media Rooms for Bloggers and Twitterers, Social Media Campaign vs Strategy vs Tactics: Facebook Pages and Google Plus for Business and Twitter Tools including Measurement and Monitoring. See Day by Day Schedule below to learn more. This course has been very popular for corporate organisations and Government in Australia and in Singapore and is now being offered as a public class, suitable for small to medium size businesses, consultants and hobbyists wanting indepth social media knowledge.
By the way: If you already have your social media dashboards for scheduling and automation setup, you are very confident with not just boosting posts but Facebook Ad manager, and pixel retargeting across platforms, and have a variety of working effective social media diaries (content calendar, influencer plan, engagement diary, metrics plan) this course may not be for you. Please enquire first?
DATE: WEDNESDAY 27th May 2020 to FRIDAY 29th May 2020 in Sydney, Australia
TIMING: Wednesday 27th May 2020 at 9:30 am to Friday, 29th May at 5:00 pm Sydney, South Australia
This is an intensive course starting at 9:30am each day and finishing at 5pm with morning tea, lunch and afternoon tea included.
This social media course will run again in 2020.
BRING YOUR LAPTOP, POWER SUPPLY FOR LAPTOP and PHONE RECHARGE CABLE. Power boards and wifi are provided. Call 0432684992 or email [email protected] if unsure.
Where: Workspace365 Level 5, 20 Bond St, Sydney CBD

Close to Wynyard railway station in Sydney CBD. If you need to book a hotel. 150m from George St/Margaret St.
WHO: Intended Audience for 3 Day Social Media Intensive in Sydney, South Australia
While the first part of each session is for beginners, this workshop is fastpaced and very indepth. A Facebook personal profile and other social media profiles such as Twitter are assumed. Those who do not yet have any social media profiles online will have them set up by the end of the course, more advanced users will be building deeper engagement and conversations. Please also consider forwarding to a friend who might be interested?
It is not a beginners "how to set up a Facebook Page" course but suitable to someone who:
Has been managing social media for their organisation or business for a while but needs more help to kick it to the next level. Suitable for Small Business or Social Media Marketing Managers
Needs a comprehensive strategy across multiple social media platforms rather than just running a Facebook Page and LinkedIn group. Suitable for Gov, NFP and large Corporates
Wants more engagement on their sites including setting up a Conversation Diary with correct hashtags and times to post specific content. Suitable for Public Relations and Community Managers
Has an interest in analytics and measurement, Ads and promotions and taking them to the next step. Suitable for Agencies
Is developing Crisis Communications Plans, around negative criticism, trolls and hostile feedback from community engagement. Suitable for senior staff, PR and celebrity social media managers.
If you have done my Social Media Marketing Campaign course at the University of Sydney, this is the more advanced, handson version.
Book a Place in the Course
Curriculum of 3 Day Social Media Intensive in Sydney CBD:
The 7 steps of social media Engagement
understanding social media from an organisational evolutionary perspective. The steps include: developing Social Media Policies and Guidelines for Staff, Building Viral Engagement for promotion in social media sites, Collaborating with Customers in building Social Products and Services. This segment takes you through all seven steps that most organisation evolve through and prepare for the next session on Nine Steps of a Social Media Strategy.
OUTCOME: Students will gain an understanding of the 7 Steps of Social Media Engagement.
Computer Based Session: Build a blog and social media press room with socmed press releases, blog and social objects.
Nine Steps of a Social Media Strategy.
Before you build a social media campaign, you need a strategy. This section takes the student through all nine steps of building a Strategy including: Purpose and Values and determining why and what customers will follow on social media sites, Influencer and Blogger Relationship strategies – how to determine who will help promote your products online and how to encourage Twitter users, and bloggers and Facebook users to connect with you and the other 7 steps. Two steps (campaign and diary) will be covered tomorrow in depth).
OUTCOME: Students will have enough information to work on their own 9 Step Social Media Strategy.
Computer Based Session: Build a business hub on emergent social tools such as Google Plus and Pinterest and LinkedIn Business Pages.
5 step Social Media campaigns
including building a hub and spoke practical demonstration session and Creating a Conversation Diary to facilitate in-depth, community building conversations. This afternoon, The Five Steps of a social media campaign will cover from how to Monitor social media through the campaign lifecycle to brief introduction to Social Media Measurement (covered in more depth on Day THREE). No matter whether your campaign is to promote a product or service, to recruit new staff or to offer online customer service, these 5 steps are the way to effectively engage in social media.
OUTCOME: Students be able to build a 5 Step Social Media Campaign.
COMPUTER SESSION: Maximise Twitter account, and apps to schedule, measure effect of tweets, auto tweeting do's and don'ts and tools.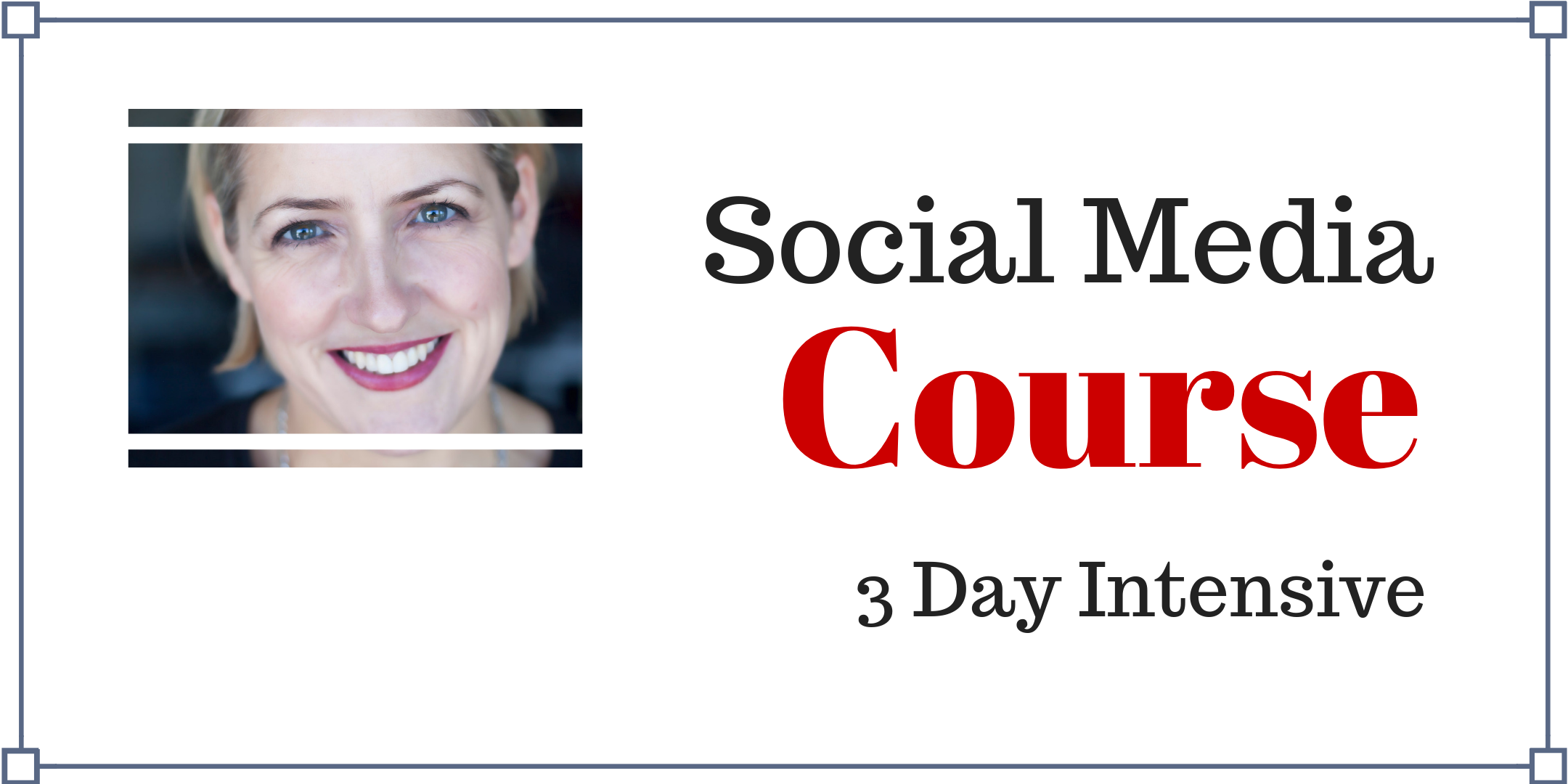 Creating a Conversation Diary
the importance of a calendar for working with staff, creating social objects for conversations, FBO (Facebook Optimisation) and SMO (Social Media Optimisation). Understanding Facebook, Twitter, LinkedIn optimisation
OUTCOME: Students will gain a thorough understanding on how to create a Conversation Diary for better SEO, FBO and SMO rankings.
COMPUTER SESSION: Maximise Facebook Business Page and tools to ensure engagement and FBO
Measuring Social Media
Six Key Performance Indicators in social media – The Return on Investment (ROI) and the Cost of Inaction (COI) figures. Six points of measurement from Circulation (number of followers) to Reach ( number of Shares) to Velocity, Sentiment and so on. We look in depth at tools and analyse statistics and bottom line figures in social media.
Your Instructor
Join the 11,000 students that study with me online, the 10,000 social media professionals I have trained offline in the last decade and work on your social media and online community management skills!
Forbes Magazine named me in the Top 50 Social Media Influencers globally,named head of media, social media by Marketing Magazine and in the Power150 AdAge Media bloggers. I strive to show the theory/strategy with practical tactical tools in online community building.

I am a CERT IV Training and Assessment certified trainer (Diplomas and Certificates etc) and I also have taught a Masters of Convergent Media.

Professionally, I have managed Facebook Pages for Junior Masterchef, Idol, Big Brother etc. and have consulted on private online communities for banks, not for profits & governments in SE Asia. I have taught social media for businesses at University of Sydney for 10 years and I have 11,000 online students. My clients range from UNHCR and TV shows to small businesses and Women Matter (Saudi Arabia Women of Islam community).

I have a quarter of a million followers online, personally reaching around 6 million people per month through social media. I have taught around 100,000 people in the last 10 years how to build online communities, create social media content, write strategy documents, drive social media campaigns and improve their Facebook Page through FBO and earned attention.

More, much more information on Laurel Papworth's About page.



Frequently Asked Questions
How Do I Contact Laurel?
You can email Laurel's PA (Fiona) on
[email protected]
Mail goes to PO Box 32 Mount Victoria, NSW, 2786 Australia.
When does the course start and finish?
Most courses start now and never end! It is a completely self-paced online course - you decide when you start and when you finish. Others are Instructor Led and have a start and finished date. Check! The real life classroom usually start at 9:30am and finish at 5pm. Uni starts 9am.
How long do I have access to the course?
Most courses are lifetime access. Real life courses may have an online component - please check - that has lifetime access. Challenges may be for the life of the challenge - 30 days for example. Check!
What if I am unhappy with course?
We would never want you to be unhappy! If you are unsatisfied with your purchase, contact us in the first 7 days and talk to us about a full or partial refund.
Contact Laurel Papworth
Please contact my assistant, on [email protected] for direct debit information, testimonials or other queries. Interested in other training? Pinterest, Facebook, Twitter, Google Plus, Foursquare, 2 hour, 1/2 day and full day classes are available. More social media courses here
Organisations, Government, Enterprise: This course can be run inhouse tailored to your needs. Please email [email protected] for dates and pricing or call Laurel on 0432684992 for more information.
For enrolled students please use the in-course forum for social media questions. For business requirements please use this form.