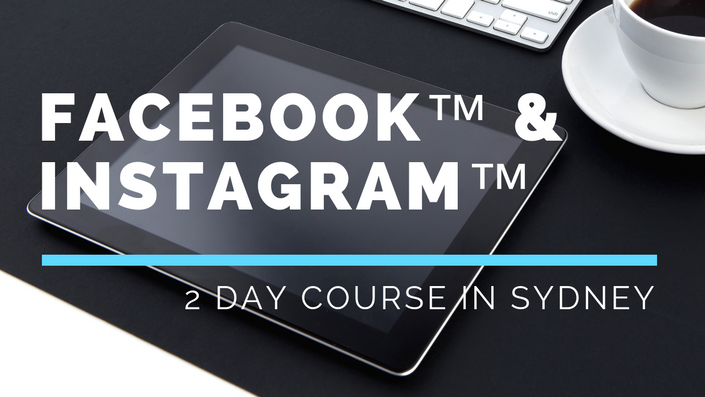 SYDNEY: Instagram & Facebook Course (intensive) for Business 2020
February 2020: in the Sydney CBD: Intermediate Facebook and Instagram Course for Social Media Managers
April 29/30 2020 Sydney CBD Facebook & Instagram for Business course: (2 day Sydney course) Are you wanting to take your Facebook Business Page & Instagram content to the next level?
Curriculum of the Facebook & Instagram course (Sydney, Australia 2020):
Are you interested in Facebook for Business:
Facebook Content Creation, posting, creating, images, videos, livestream, when to post?
Facebook Groups, Events, marketplace, profile, pages and other app/functions
Facebook Analytics, Insights, KPIs and writing Measurement reports?
Facebook Ads: Understanding the Facebook Framework (F8), Advertising platform(s) including Power Editor, Pixel retargeting
Facebook Optimisation (FBO) Developing Content that works with the Facebook Algorithm (FBO) ensuring it is seen and engaged with by Preferred Audience, Lookalike Audience and target Social Graph?
Facebook Groups and Events - there is so much more to Facebook than simply profiles, Pages and Ads!
Facebook Business Apps: Adding Apps to your Facebook Page including a shop for selling within the Facebook Page, email such as Mailchimp apps and Instagram and Youtube integrations?
How About Instagram for Business?
Is Instagram right for your business?
How to find and measure key influencers - are they really influential??
What are the best types of posts to get attention on Instagram? Have you started your IGTV programming yet?
How to create a content calendar for Instagram that creates a Call To Action (CTA)?
How to get more followers by working with the Instagram Algorithm?
What hashtags to use and how to measure the effectiveness of hashtags?
How to find the best practice with social media tools and dashboards
This course is not for the absolute beginner unless you are very confident! We do go quickly through the basics on day one but speedily move into intermediate areas of Ads and Analytics, Algorithms and so on.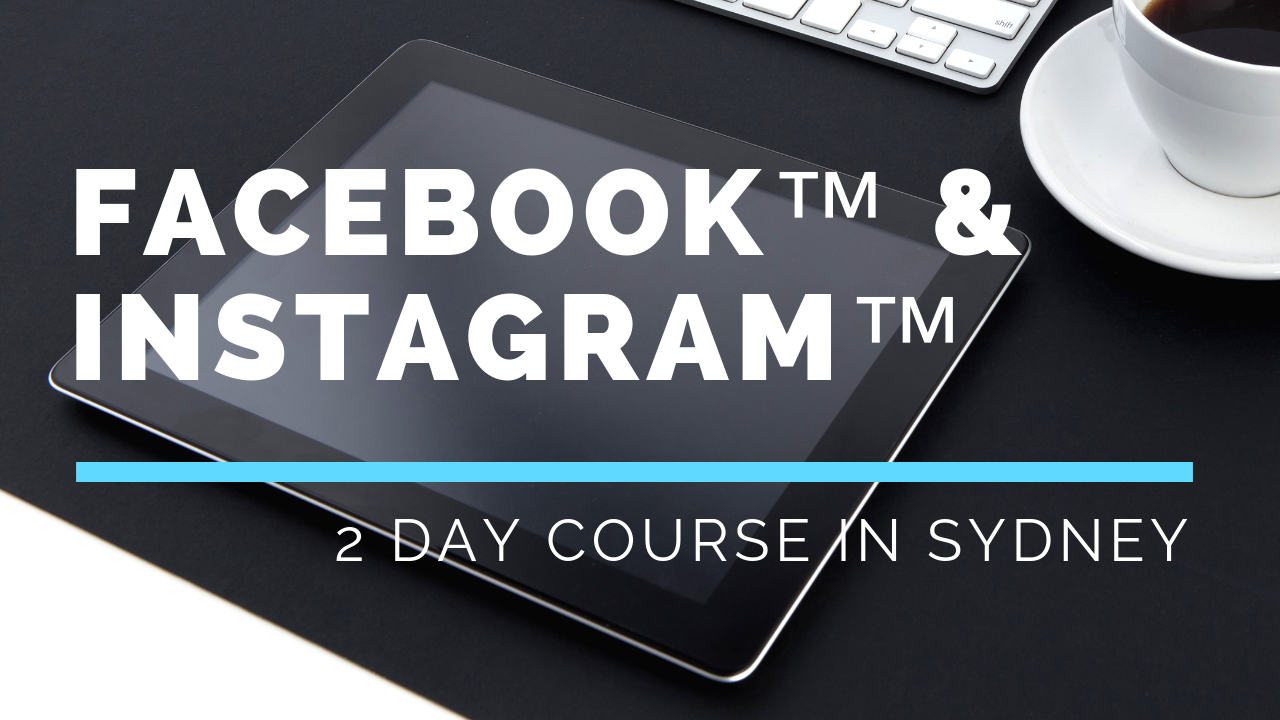 Intended Audience
If you have done my Social Media Marketing Campaign course at the University of Sydney, this is the more advanced, handson version. It is not a beginners "how to set up a Facebook Page" or "Getting Started on Instagram course but suitable to someone who:
- Has been managing as a Facebook Page Admin and trying Instagram for a while but needs more help to kick it to the next level.
- Has boosted posts or done basic Self Serve Ads in Ads Manager but would like to know more about Pixel retargeting or Power Editor in Facebook and Carousel posts in Instagram
- Wants more engagement on their Facebook Page including setting up a Conversation Diary with correct hashtags and times to post specific content.
Learning Pathways:
This course is a worthwhile benefit to those who are studying Diploma of Business (Social Media) and/or are interested in deeper knowledge of frameworks and algorithms. Advanced users (who have already been using Business Manager, Power Editor etc for some time) may not benefit as much as an intermediate user.
Requirements:
Please bring your own laptop and a power supply for that laptop. Internet (wifi) and a powerboard will be provided. Please contact us if you have accessibility requirements.
Inclusions:
Included in your 2 Day Facebook & Instagram workshop:
An online course covering the material will be provided to participants so they can review video tutorials and walkthroughs later.
Lunch both days (please email any special requirements)
Workbook (PDF)
I'll email you before the course with more details to prepare you for the intensive 2 day Facebook & Instagram Course.
#fabo2

TICKETS: Please choose a Pricing Option below (the Price displays underneath Complete Order)
Additional Notes:
As this is a "bring your own laptop" course and not a lecture style, there are limited places. Refunds are available until 2 weeks prior or until earlybird finishes (which ever one is first).
I can run this inhouse for groups, Departments or companies (for about the cost of 10 people, so get the team together!). If you have any questions, please email my P.A. [email protected] or call me on 0432684992.
All Attendees will receive a bundle of online courses to continue/review their education at work and at home. Example of the bundle included with this course: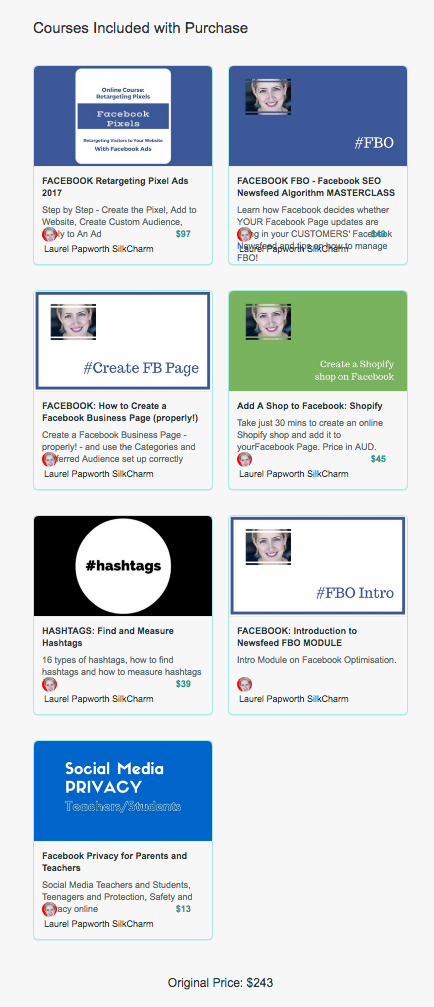 Sydney Facebook & Instagram Course: 20-21 February 2020
This is an intensive course starting at 9:30am each day and finishing at 5pm.
This course runs 2-3 times a year, please email [email protected] for pricing and to be put on the waitlist for another date or to organise inhouse training (cost at around 8-10 participants)
Where: Workspace365 Level 5, 20 Bond St, Sydney CBD
Close to Wynyard railway station in Sydney CBD. If you need to book a hotel. 150m from George St/Margaret St.
Your Instructor
Join the 11,000 students that study with me online, the 10,000 social media professionals I have trained offline in the last decade and work on your social media and online community management skills!
Forbes Magazine named me in the Top 50 Social Media Influencers globally,named head of media, social media by Marketing Magazine and in the Power150 AdAge Media bloggers. I strive to show the theory/strategy with practical tactical tools in online community building.

I am a CERT IV Training and Assessment certified trainer (Diplomas and Certificates etc) and I also have taught a Masters of Convergent Media.

Professionally, I have managed Facebook Pages for Junior Masterchef, Idol, Big Brother etc. and have consulted on private online communities for banks, not for profits & governments in SE Asia. I have taught social media for businesses at University of Sydney for 10 years and I have 11,000 online students. My clients range from UNHCR and TV shows to small businesses and Women Matter (Saudi Arabia Women of Islam community).

I have a quarter of a million followers online, personally reaching around 6 million people per month through social media. I have taught around 100,000 people in the last 10 years how to build online communities, create social media content, write strategy documents, drive social media campaigns and improve their Facebook Page through FBO and earned attention.

More, much more information on Laurel Papworth's About page.



TICKETS: Please choose a Pricing Option below (the Price displays underneath Complete Order)
Frequently Asked Questions
When does the course start and finish?
The course starts 9:30 and finishes 5:00pm each day. The online self-paced courses included- you decide when you start and when you finish.
What if I need a refund?
Due to the small size of the classes, there are no refunds within the 4 weeks. Please consider carefully before purchasing as you may take a spot someone else wants. In the event of an emergency, please call Laurel on 0432684992 to be booked into the next Sydney class (6 months later) for 50% discount with Doctors certificate.
For enrolled students please use the in-course forum for social media questions. For business requirements please use this form.