Target Audience - Council Strategy
Target your UNPAID UNBOOSTED posts
Step 1: Use the Targeted Option to target in your local area. If it's not turned on, turn it on in Settings FIRST

Step 2: click the targeting thingie :P

Step 2: choose Target Audience e.g. mums in Wollongong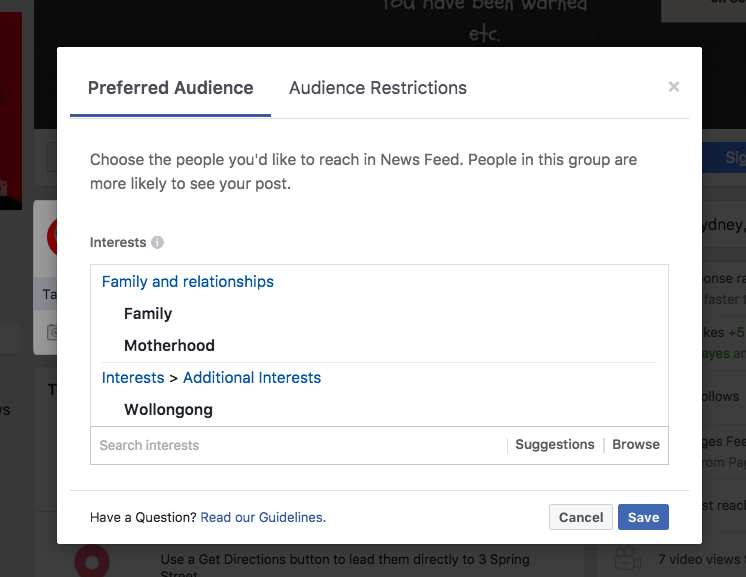 This will make sure that your post targeted at families will reach the right newsfeeds. If you target incorrectly and have limited engagement Facebook will remove your posts from your Likes/Subscribers newsfeeds. You may want to start with Facebook Optimisation course if this interests you.
Step One of a Social Media Strategy:
In the first few lectures of the 9 Steps of a Social Media Strategy course, we write out our course avatars. Consider who your target audience are for the Convention/Entertainment Centre, for the main Council Page and for the Library. How will Facebook (algorithm/lookalike audience) perceive your Page?
Write out 3 avatars for each Page. Consider
job, age, family status
specifically business owner vs tradie vs stay at home mum vs teacher
Type of content they want (their needs) vs type of content you want to give them (organisation comms)
7 Brands they might buy or use e.g
Lyda is 27, like pilates and yoga, meditation and paleo, watches The Bachelor, reads Mindfood, drives a Prius, and holidays in Bali and Nepal. Checks into the Anytime gym and the Bump club and occasionally concerts at the Entertainment centre. Lynda likes tickets to concerts, fun competitions, and inspirational local stories of social good and helping people.
John is 54 likes the art gallery, Dendy Cinema, Glebe Books and the local symphony. John listens to Radio National, watches ABC Q&A and reads Australian Financial Review. As an owner of a small business he is interested in changes to the CBD, business advice and events that help his business.
We will use this in the Facebook Ads area to create Custom Audiences so be ready!